Adaptogen Stress Support Powder Jar
Regular price
$49.00 USD
Sale price
$39.00 USD
Unit price
per
Sale
Sold out
Make this tasty blend part of your everyday wellness routine. It contains a potent combination of organic, sustainably sourced, adaptogenic ingredients to ease stress on the mind and body—Chaga, Reishi, Cordyceps, Ashwagandha, Astragalus, and Rosehip.
Ingredients

Reishi fruiting body mushroom*, Chaga fruiting body mushroom*, Cordyceps fruiting body mushroom*, Astragalus*, Ashwagandha*, Rosehip* 

*USDA certified organic
How to use

Enjoy it daily in drinks and foods like coffee, smoothies, juice, tea, or even water. 
Benefits

🌿Stress management
✨Increases mental & physical stamina
🌿Enhances focus
✨Boosts immunity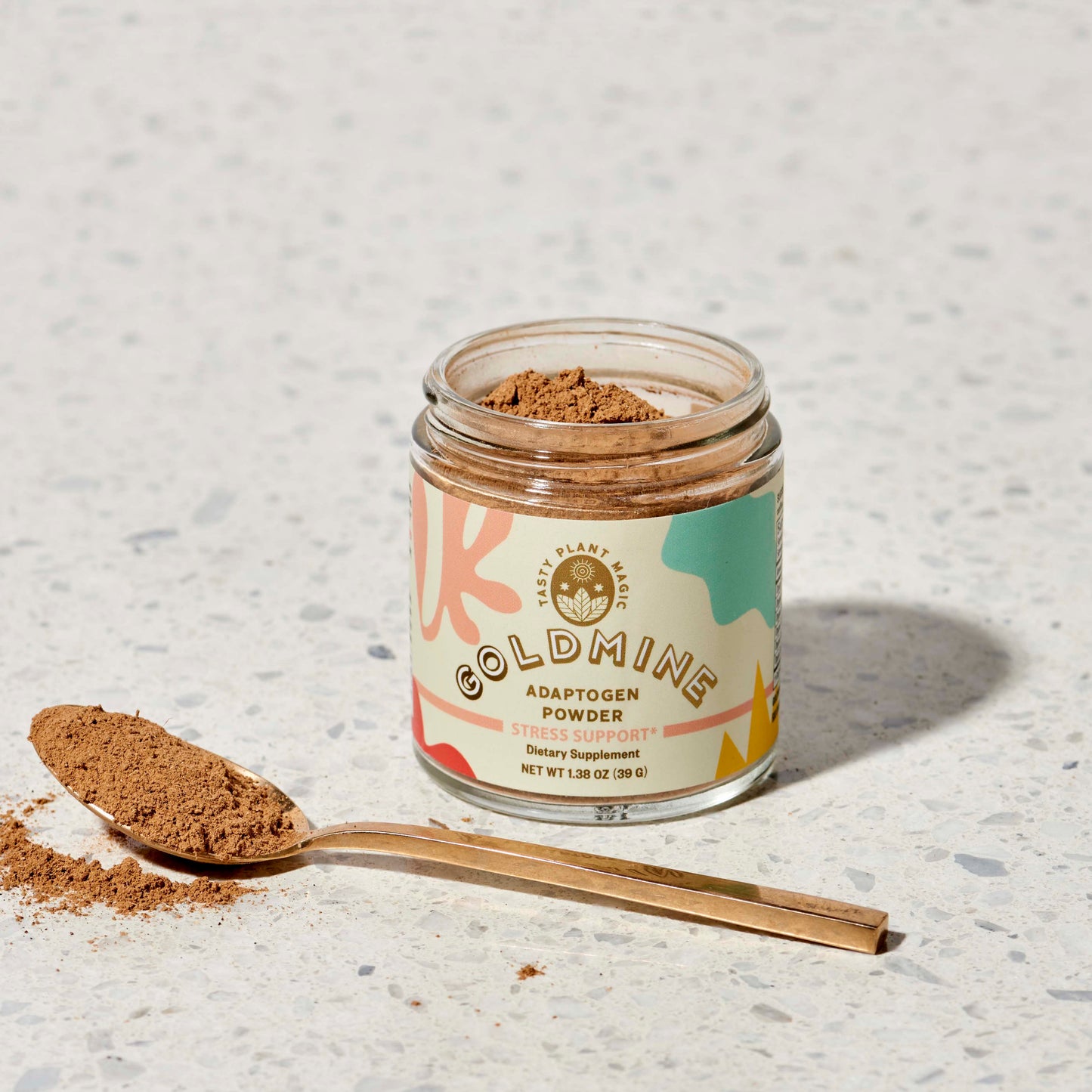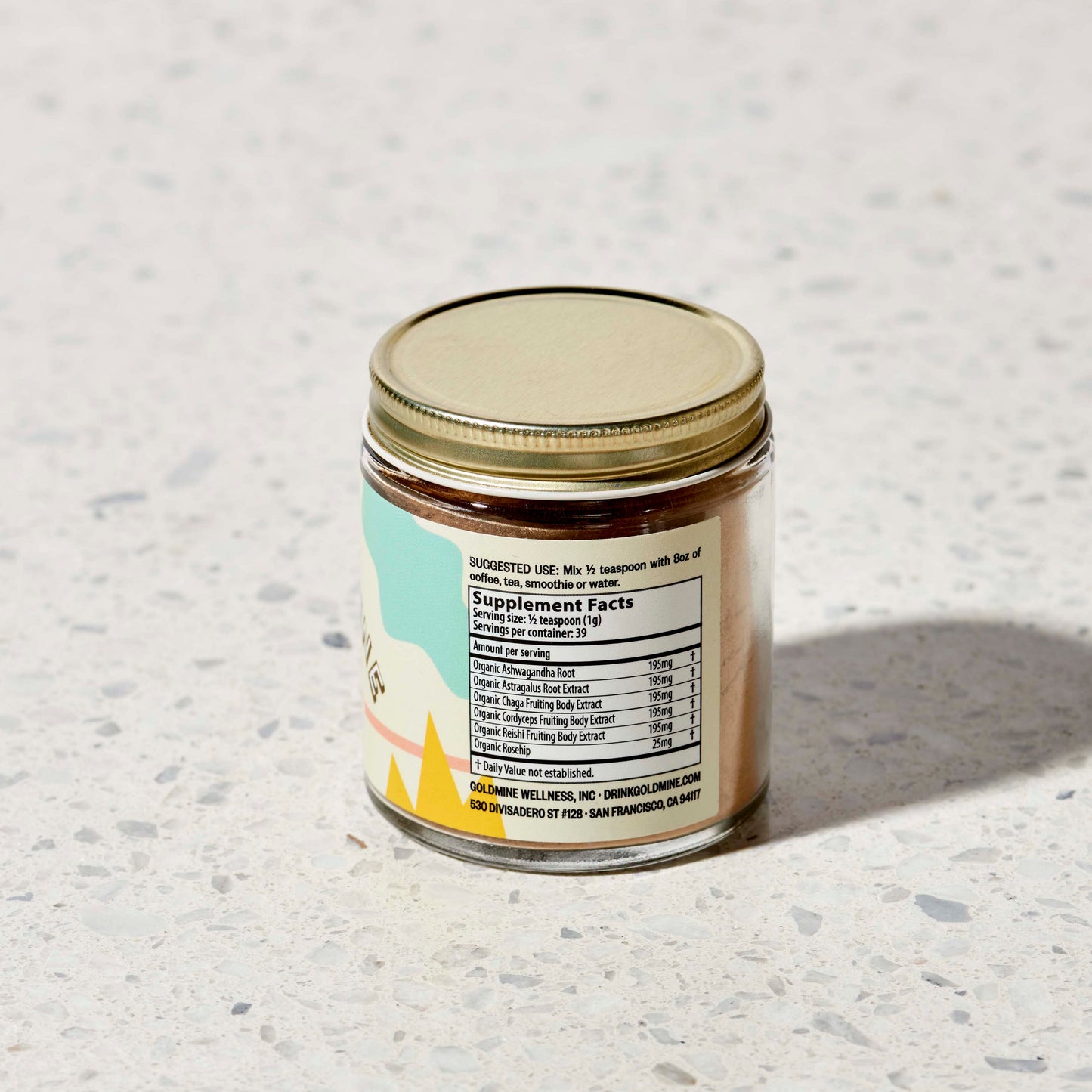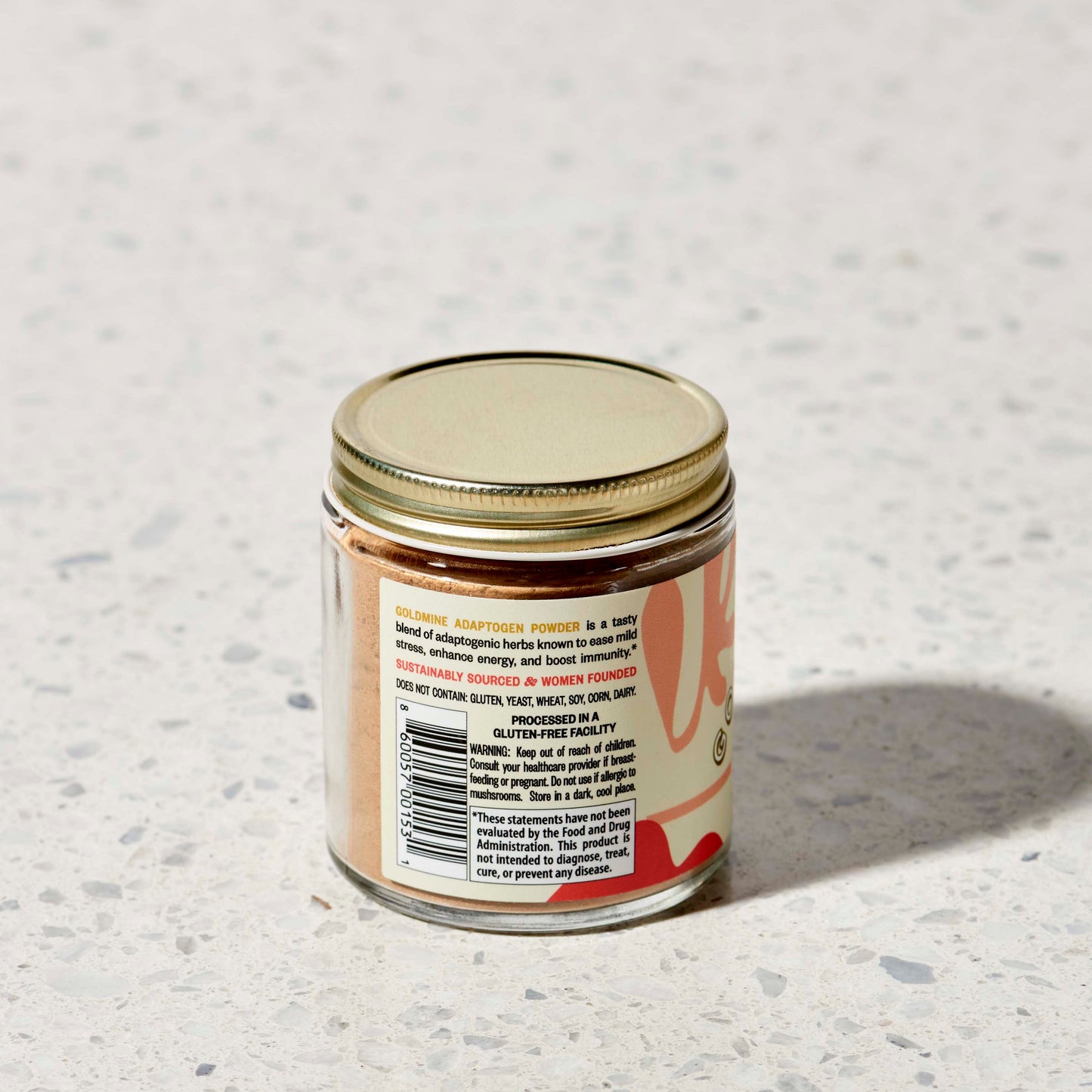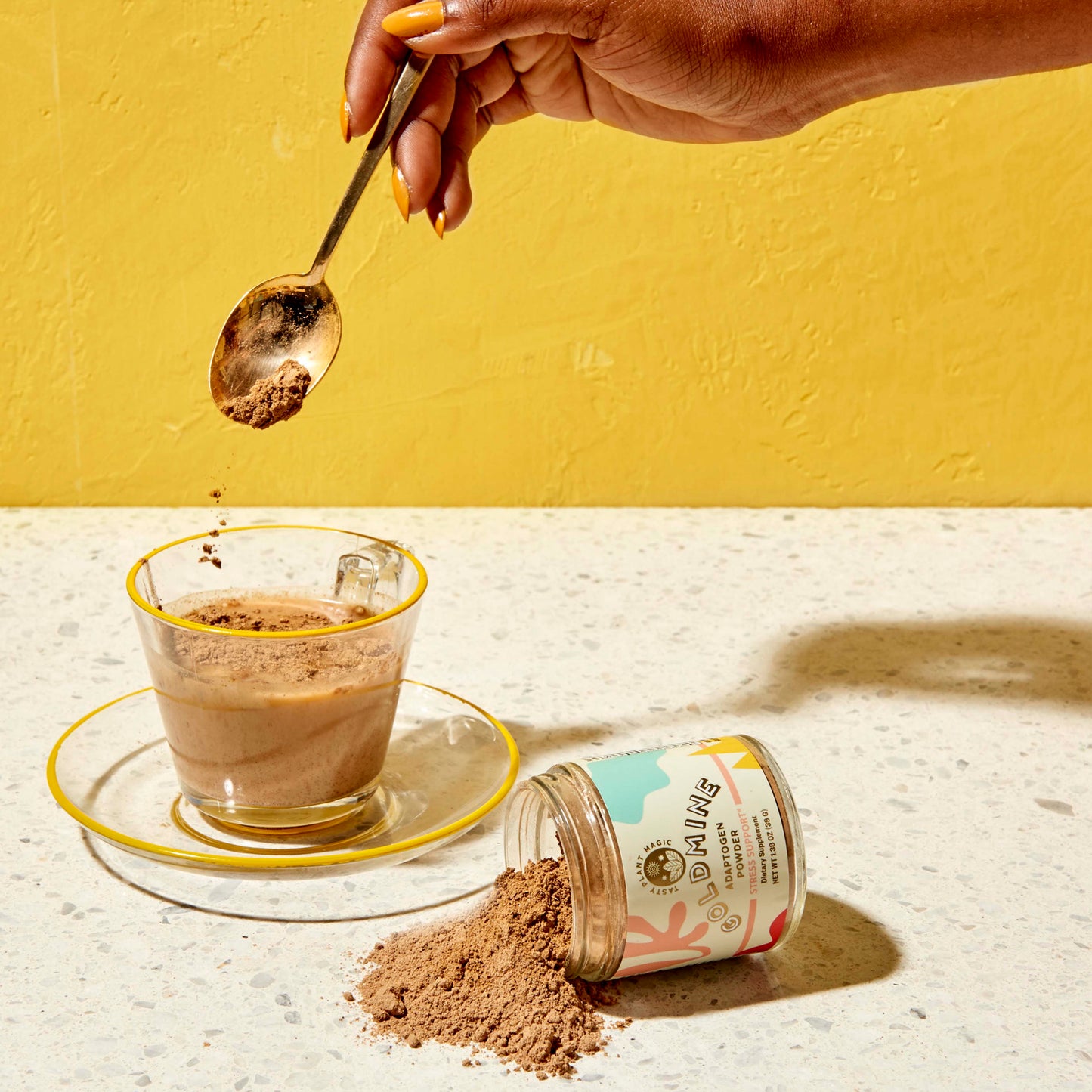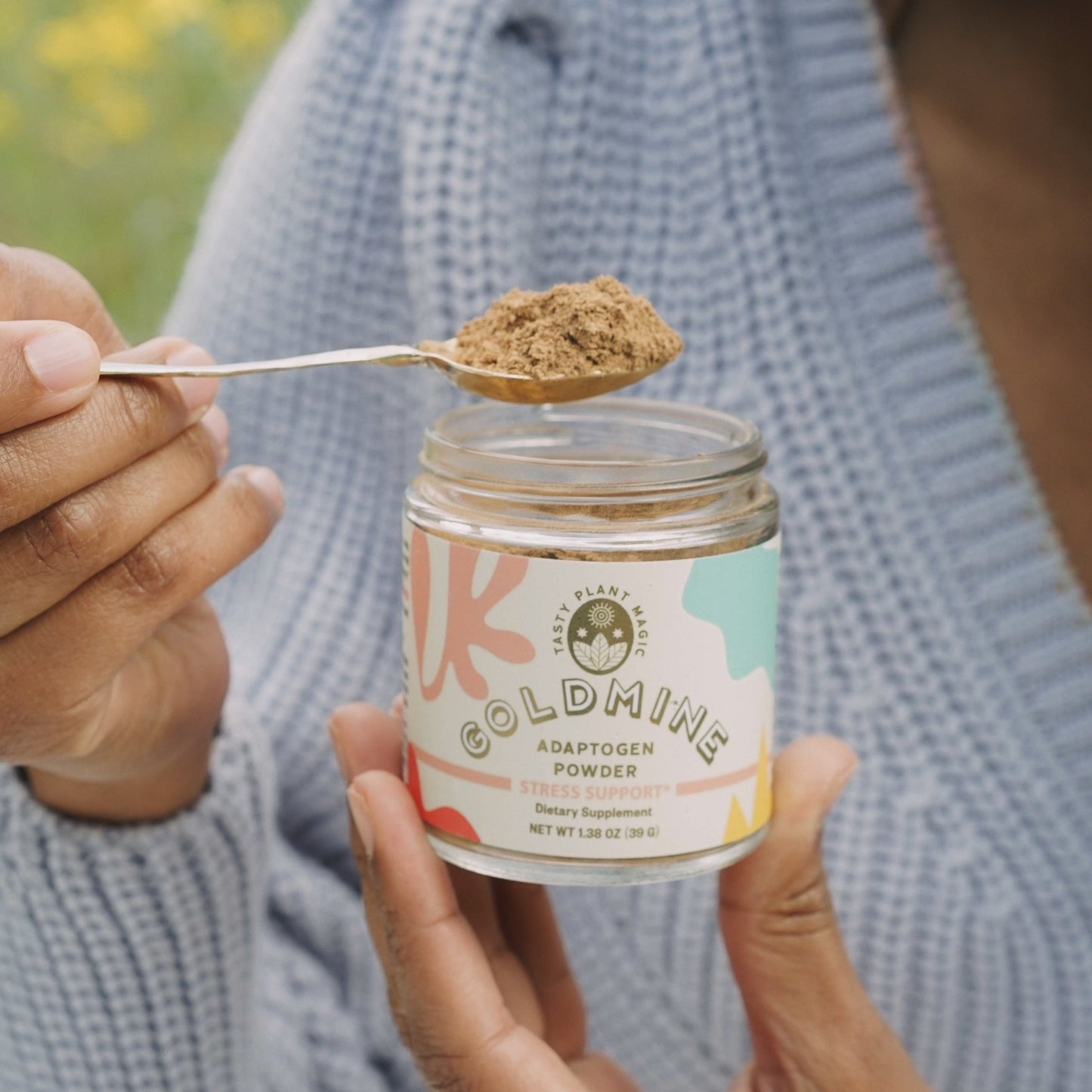 "makes my morning pop by bringing me back into my body"
-Evelyn S, happy customer
Ingredients
Reishi

(USDA organic)

Reishi is known to promote longevity, support healthy immunity, balance hormones, energy, mental clarity, and digestive health. It's an overall calming herb to help the body feel more at ease.

Chaga

(USDA organic)

This mushroom benefits the immune system, gastrointestinal system, is rich in antioxidants, is antimicrobial, and antiviral.

Cordyceps

(USDA organic)

Cordyceps originates from high elevations in the Himalayan mountains and typically grows on caterpillars. We use cordyceps that is vegan and organically grown.
Ashwagandha

(USDA organic)

Ashwagandha is a traditional Ayurvedic herb. It supports the immune system, energy (by supporting the thyroid), concentration, stress management, and balances hormones. Great for anxiety and insomnia.

Astragalus

(USDA organic)

Astragalus supports the immune system, energy levels, is antiviral, and highly antioxidant. This herb supports the cardiovascular system, and best taken on a regular basis to feel the benefits.

Rosehip

(USDA organic)

We use an organic rosehip powder in our adaptogen blend for its vitamin C! For mushrooms to be fully absorbed, vitamin C is needed. Rosehip offers this boost without any change in flavor.
What can you expect from Goldmine Adaptogen Powder?
It's like new suspension for your nerves, or sending your cortisol on an all expense paid vacation to Tahiti. In other words, a layer of cushion for your daily stressors. Some bounce back from emotional bottoming out, and a general sense of "I got this".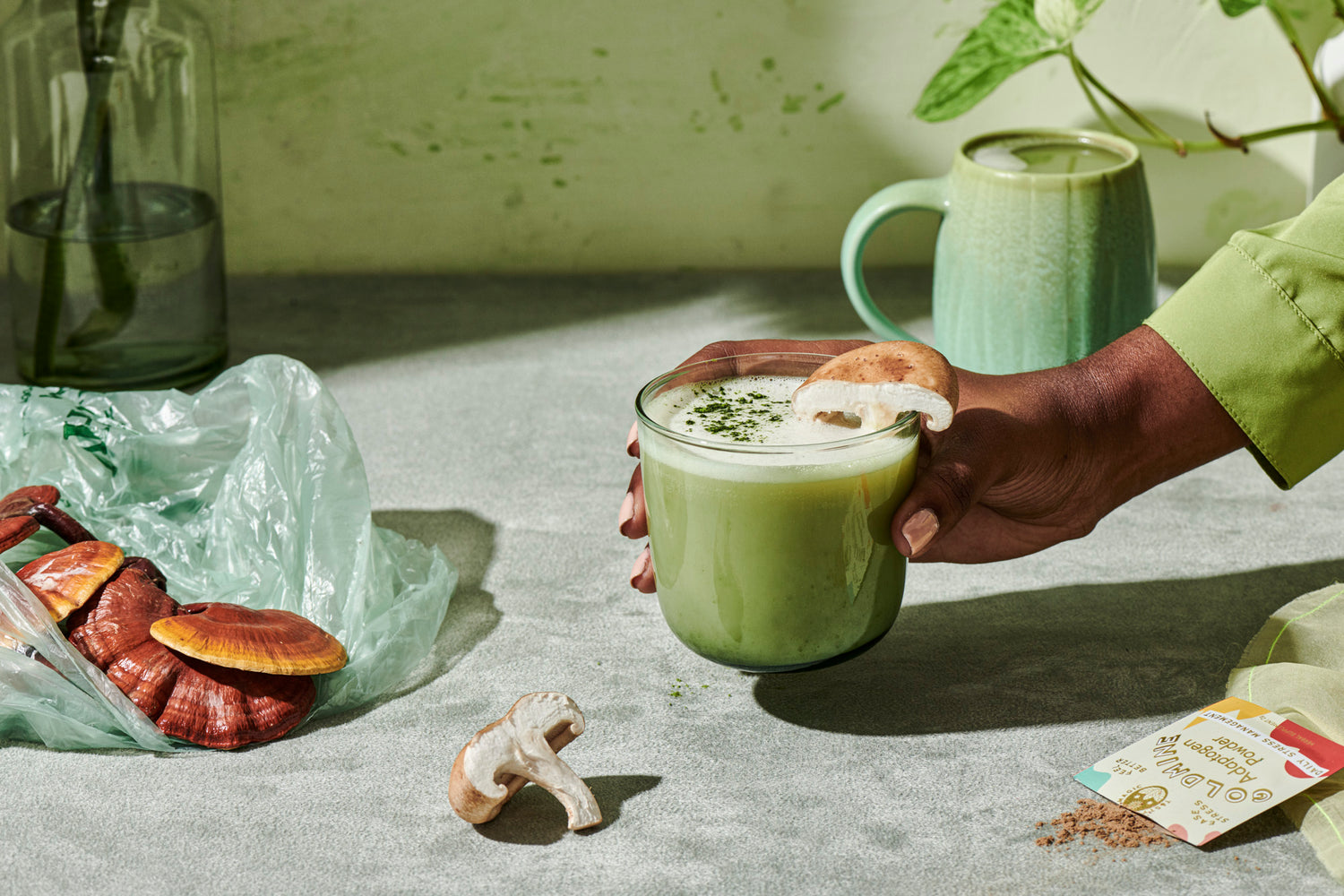 Make it your routine
Adaptogen Powder mixes into many of your favorite drinks. Add it to your morning coffee, smoothie, matcha - or make one of your own creations. We have several tasty recipes for you to try!
Meet the creator
Goldmine was inspired by burnout and adrenal fatigue. We are constantly juggling so many work responsibilities, projects, and social pressures. Goldmine was born out of a desire to share natural stress solutions that we can all benefit from.
Customer Reviews
26/12/2022
Brian G.

United States
So far, so good!
While I've only been using Goldmine for about a week, the faster-acting mushrooms are doing their job with a bit of mental clarity about 10 minutes after drinking. If the accumulative, longer-tail benefits appear or are noticeable enough to warrant the pretty steep price, then I'll be buying a bulk bag!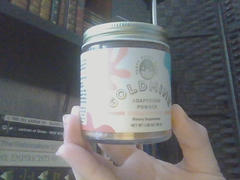 12/10/2023
Brooke L.

United States
literal GOLD. MINE.
i have been now incorporating the goldmine stress specific adaptogens every morning for 2 weeks and i can feel so many changes since making this a habit. i feel like in summary: it just helps me weather the storms better. i don't feel the same constant underlying tense-ness to my body that i had grown so used to. i'm able to flow a bit more with my life and as a sober mom to a medically complex toddler i can't tell you what a gift this has been. ps: i just mix it into my morning smoothie / protein shake and its 10/10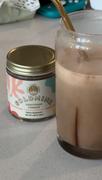 18/10/2023
Goldmine Adaptogens
This is wonderful to read, Brooke! So happy to hear it's helping you. Sending love and thanks from Petaluma, CA :)
03/10/2023
Connie C.

United States
A natural way to decrease stress
Its a great product and I use with other tools such as breathwork. I think its a great replacement for coffee with out all the highs and lows.