Why we love it

Who doesn't love a crunchy granola spiced with cardamom, cinnamon, and Goldmine! We love granola because it's versatile and you can add whatever nuts and seeds you have. Hazelnuts, walnuts, almonds are also good substitutes for what we've listed below. Add in some chopped dried fruit. Brown rice syrup or honey can be subbed for maple syrup.
Best part? Adaptogenic milk! We make this at home and add it into our morning beverage throughout the week.
---
Makes: 5 cups
Ingredients
1/4 cup coconut oil
1/3 cup maple syrup
1 tsp vanilla extract

1 cup rolled oats

2 cups of seeds + nuts:

1 cup sunflower seeds

1/2 cup pecans, roughly chopped or broken up by hand

1/4 cup sesame seeds

1/4 cup hemp seeds

1 tsp cinnamon ground

1 tsp cardamom
1/2 tsp Malden sea salt
1 cup Coconut flakes
Adaptogenic Milk:
2 cups of milk, oat, almond, etc.

1/4 tsp cardamom powder, optional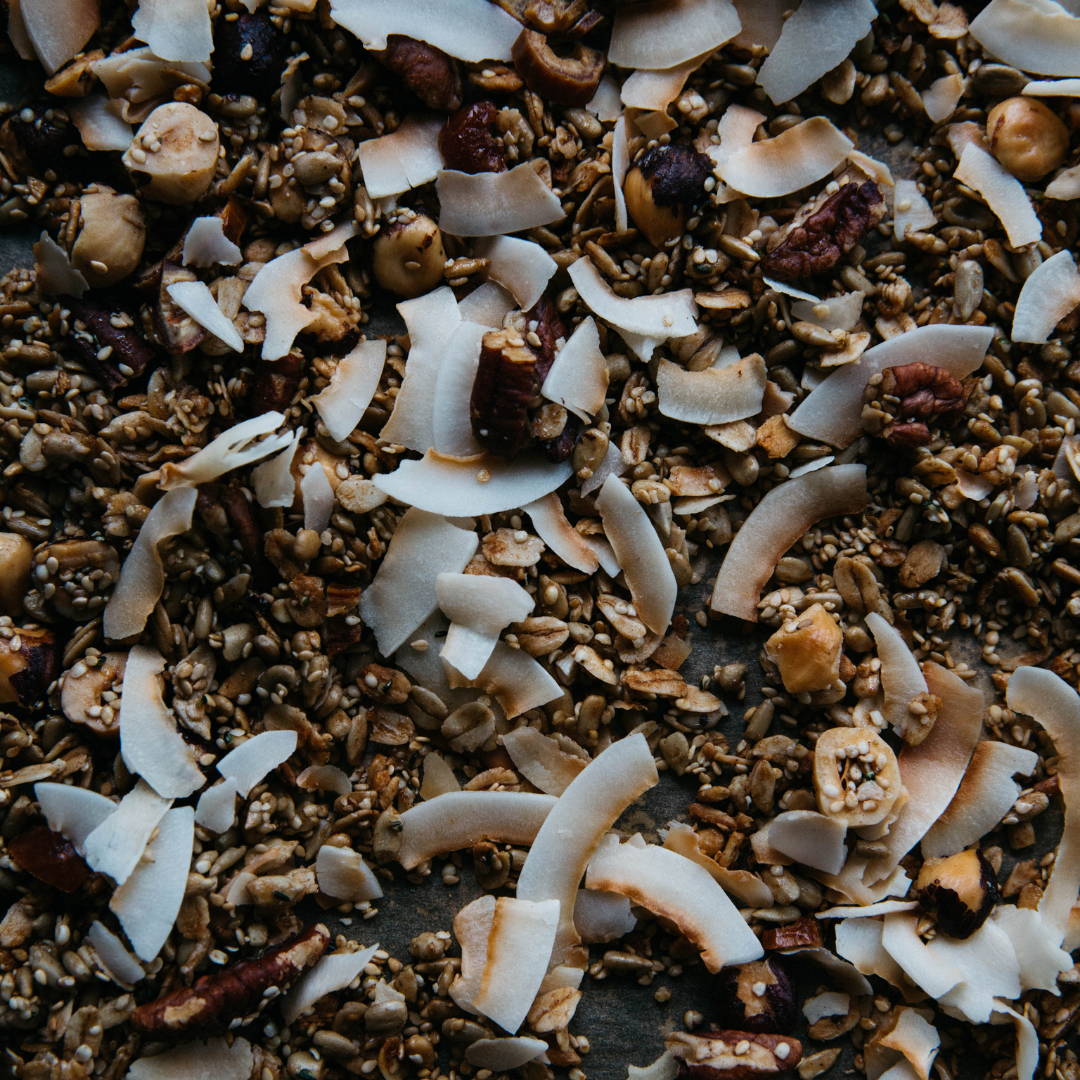 Directions
1. Preheat oven to 275 F and line two (2) rimmed baking sheets with parchment.
2. In a small sauce pan, melt the coconut oil. Whisk in maple syrup, vanilla extract. Remove from heat. *Reserve 2 tbsp of this liquid*
3. In the large mixing bowl add the oats, the nuts and seeds, cinnamon, and sea salt. Pour in the melted coconut oil mixture and stir until well combined.
4. Spread the mixture on one of the baking sheets into a single layer.
5. Bake on the center rack for 30-40 minutes, or until the granola is lightly golden in color. If you're not sure, you can take out a spoonful, let cool for a minute and taste.
6. (in the last 10 minutes) Mix the coconut flakes in the same large bowl. Mix in the reserved 2 tbsp of the coconut oil liquid. Spread it on the second baking sheet and bake for 5-10 minutes until the coconut flakes are turning golden, but not completely brown.
7. Remove the two baking sheets and let them cool without stirring (this ensures chunky granola). Once cool, mix the two together. Store in an airtight container at room temperature for up to two weeks.
Adaptogenic Milk:
1. Place all ingredients in a small saucepan, over low heat, place a lid on it, let it warm for 10 minutes before serving
---